Sneak Peek at 2022 Paint Colors of the Year
Each year, paint companies and color experts reveal their picks for the shade that best encapsulates the current period. Their choices for color of the year often draw on trends in pop culture, fashion, technology, and design from around the world, and the results are starting to roll in for 2022.
Sherwin-Williams
Sherwin-Williams selected the subtly soothing Evergreen Fog for its Color of the Year.
The mid-tone gray-green signifies a shift away from the cool neutrals and brilliant jewel tones that have previously dominated paint color trends. This familiar, organic color can extend a comforting welcome in entryways, establish quiet and calm in bedrooms or bathrooms, and introduce restorative energy to living rooms, kitchens, and other common areas.
The company believes that Evergreen Fog will inspire us to begin again and that it's a great choice for modern interiors and exteriors.
Valspar
Instead of naming a singular Color of the Year, Valspar curated a palette of 12 nature-inspired hues that represent our current craving for comfort and calm. The colors encompass warm neutrals, dusty pastels, and soothing blues and greens, ranging from light and subtle to dramatically dark. Each shade was selected for its ties to nature and ability to foster a peaceful, optimistic mindset. The palette seeks to empower consumers to think positively about the future while creating spaces in their homes that provide solace and a comfortable feeling in the present.
Blanched Thyme – Calming and nourishing, this natural green shade encourages balance.
Delightful Moon – This bright yellow color radiates warmth and takes on sophistication, expanding the natural tones in the home.
Gilded Linen –Soft and cozy, this minimalist white gives home owners space to breathe and declutter their minds.
Grey Suit –Dependable and reliable, this warm grey works well in any setting, in any home.
Lilac Lane – A light purple shade with versatility, soothing, and restorative qualities brings a new softness into the home.
Mountain River – A natural blue hue with depth creates an indulgent escape within the home.
Orchid Ash – Pure and clean, the simple quality of the shade creates a mindset for a hopeful future.
Rustic Oak – A warm shade, reminiscent of copper, creates a space for people to feel protected and comforted.
Subtle Peach – A simple peach pastel brings owners back to the basics. Its natural quality gives a lived-in attribute that feels clean and modern.
Sunset Curtains – Homeowners have embraced warm neutrals back into the home for comfort. The familiar hue is reassuring.
Country Charm – Create a space to relax and unwind with this warm, comforting neutral shade.
Fired Earth –A classic shade with warm depth, this hue evokes a feeling of stability and comfort.
Glidden
Glidden's choice for Color of the Year is Guacamole.
This ripe avocado-green delivers crowd-pleasing color that's both relaxing and refreshing. In kitchens and bathrooms, pair Guacamole with classic white subway tile and matte black accents for a timeless mix. For living areas, home offices, and bedrooms, try it with light wood tones and plenty of plants (either real or faux) to enhance the calming, organic vibe.
Behr
Behr's 2022 Color of the Year is a cool, refreshing shade of green called Breezeway.
The soft, silvery blue-green is reminiscent of sea glass found along sandy beaches and the crystal-clear water of a tucked-away bay. Breezeway establishes a feeling of tranquility, but its crisp brightness can also inspire energy and liveliness. Mixed with bright white and jet-black accents, Breezeway offers snappy contrast and a clean look that's perfect for an entryway or kitchen.
Paired with soft cream, warm taupe, and natural wood tones, it takes on a soothing, peaceful vibe that works well in bedrooms, bathrooms, and living areas where relaxation is the goal.
PPG
PPG selected a soft, organic shade of green called Olive Sprig as its 2022 Color of the Year.
Reminiscent of a soothing aloe vera plant or velvety sage leaves, the gray-green color was chosen to represent regrowth and the resiliency of nature as we adapt to new ways of living post-pandemic. Paint walls in Olive Sprig to encourage focus in an office, incorporate soothing color into a bathroom, or promote restfulness in a bedroom. The color also looks gorgeous on kitchen cabinetry brightened up with polished brass accents and balanced with plenty of white. And because of its organic quality, Olive Sprig blends beautifully with natural materials and textures such as rich leather upholstery, woven jute rugs, and wood furniture.
And, last but not least…
October 13, 2pm ET: Benjamin Moore just announced their Color of the Year – October Mist!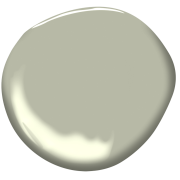 October Mist 1495
This gently shaded sage quietly anchors a space, while encouraging individual expression through color. October Mist is part of Benjamin Moore's Color Trends 2022 palette of 14 hues. The color is harmonious yet diverse, reliable yet whimsical, and meditative yet eclectic.